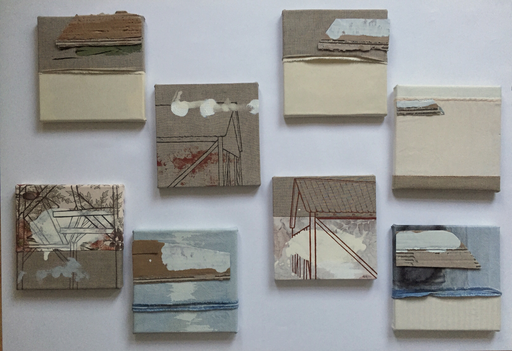 The theme of my latest paintings is The Shelter. During one of my trips back home to Denmark I became fascinated by an empty hay barn in the countrysite.

While the whole world is fighting Covid-19... like so many others I have been needing a safe shelter to be able to cope with my own fear and feeling of powerlessness. In my work the hay barn has evolved into a Shelter,
a symbolic hideout to seek refuge and shelter in my isolation and quarantine, but still with the opportunity to follow life outside through the shelter's open construction.

Most of the pictures are calm and clarified ... and if there is a little uneasiness, it is surmountable; the wooden pegs of the shelter are stable and the roof provides grounding.

In the Shelter series, I have played with combining floral canvas, cotton and linen canvas. I have sought simplicity and contrast between the line drawing, the concept and the intuitive. It has been and still is an exciting process.

My story' is always about the existential, which is universal, but which for natural reasons is based on my own personal life experiences.